3rd Grade
Email:  [email protected]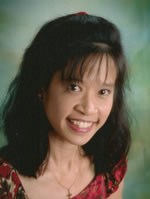 Mrs. Won was born and raised here in Hawai'i.
She earned an Elementary Education degree from the University of Hawaii and Chaminade University. Started teaching at Mary, Star of the Sea School in 1995.  She currently teaches third grade but has previously taught Catechism CCD classes, 1st, 2nd, 4th and 5th grades at MSOS. 
"I remember coming to Star of the Sea Church every Sunday morning for the 10:15 mass since I was a young girl. It was a very special time for my family. Growing up in a Catholic environment was an important part of my life.
Being a teacher here at Mary, Star of the Sea has now given me a chance to share my faith with my students. MSOS  is one big family, where children grow and learn to excel towards their highest potential.
My third-grade classroom has a variety of hands-on learning centers that reinforce our curriculum and instructional lessons.  Each year is exciting for me. I really enjoy the students and wonderful faculty with whom I come in contact every day.  Mary, Star of the Sea School, with its Catholic environment and educational surroundings, has so much to offer."
Note:  Mrs. Won is a parent of a Mary, Star of the Sea School Alumni.