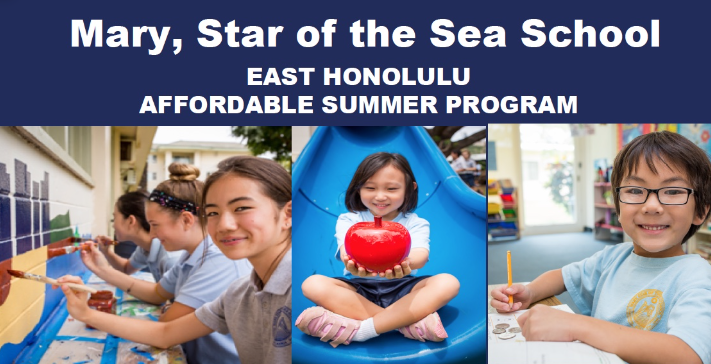 We are very happy to offer a summer school program that is exclusive to all incoming students for the 2021-22 school year.
Space will be limited as we will continue to abide by our COVID-19 school protocols.
Summer School is scheduled to take place for 4 weeks (June 14 – July 9, 2021) from 8 am to 12 pm.
Kama'aina Kids will also be offering child care options during the weeks of June 7 – July 23, 2021. More information is forthcoming and will be posted as soon as it is made available to us or please contact Jackie Shin at 808-478-3243 for more information.
Cancelation Policy
Tuition must accompany registration for all courses.  There will be a charge of $65.00 in cases where registration has taken place and parents inform the school of withdrawal before June 14.  If the school is not notified and the student attends class but withdraws within the first week, a $65.00 charge in addition to a $35.00 fee per day will be charged.  There are No Refunds if a student withdraws after one week.
Registration Deadline: Thursday, April 1, 2021
Click here to register for MSOS summer school
Fee:
$650.00 (mailed check or hand-delivered payment by credit card, cash or check in-office)
$670.00 (online payments which include processing fee)
Please include your child's name and grade when processing your payment