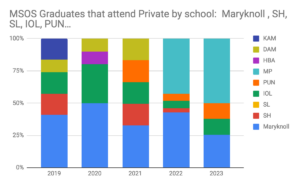 Over the years, we hear the same concern from parents with children at different grade levels. What happens after 8th grade? Where do MSOS students apply for a high school education? How many students are accepted into the top Honolulu high schools?
We collect data every year and are happy to share this with you. We take pride on our  students having a 100% rate acceptance into the private high school of their choice.  The chart above tells the story of our last 5 graduating classes.  In it you will see the various trends and evidence that each graduating class is a unique group with different interests.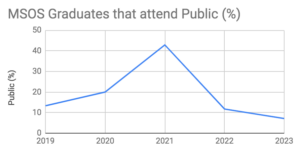 In another chart our data shows how students opted for a private school more often than going into a public high-school.
At MSOS we believe our program is a JOURNEY, one with many milestones, that ultimately prepares students for a successful future.