*Friday, Dec. 3, 2021
YOUTH NIGHT – ALL YOUTH MINISTRY IS WELCOME (6th grade thru College) – 
6:30pm to 9:30pm in the Social Hall 
Game and Movie Night to kick off Advent!
First Friday Adoration, Prayer, Icebreaker, Games & Prizes, Advent Jeopardy, Movie based on a true story (Love Kennedy), The Advent Wreath, and Dinner!
– Bring your recyclable bottles and cans for Genshu's bottles4college
– Bring 10 empty cans for the Can Crush Challenge
– Bring a blanket or mat to put on the floor to watch the movie
– face masks required, temperature checks, sanitizer, & hand washing, covid protocols enforced
– Dinner: Chili, rice, tossed salad with ranch dressing
– High School & College youth may come early to help set-up
– Fun, Faith, & Fellowship!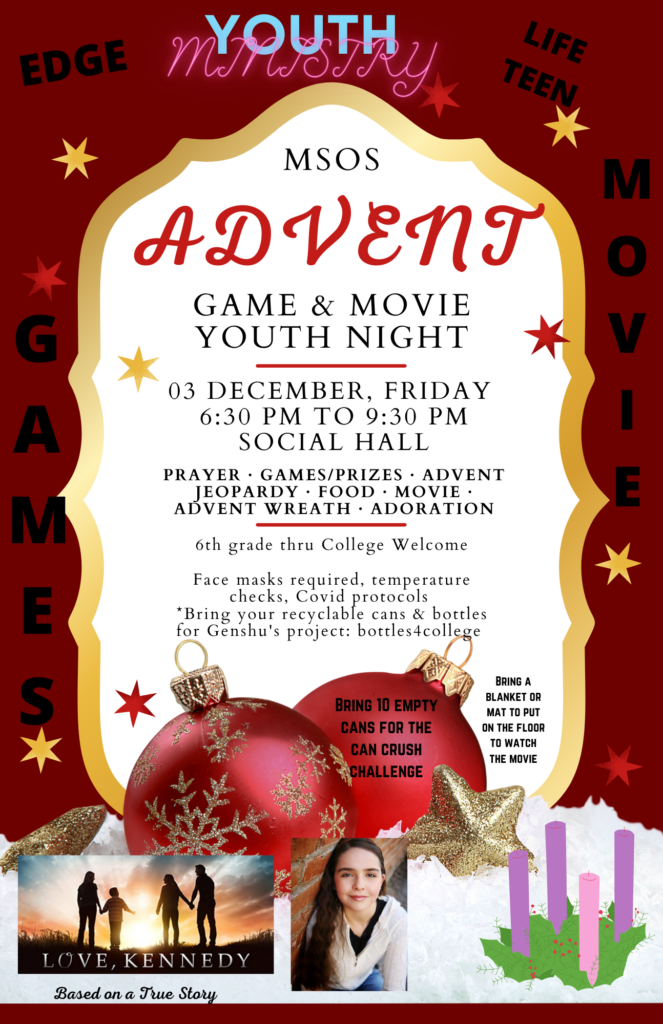 **Please Contact Young Adult Ministry Coordinator Karen Loebl to get on our email/text list and to get the Zoom link and more info – [email protected].