Return to School Decision Tree – Updated January 17, 2022
MSOS has recently made some minor adjustments to our back-to-school decision tree.  We apologize in advance if this has caused some confusion.  The adjustments were made primarily because of the recently updated CDC guidelines (as of January 17) and the uptick of the highly transmittable virus. Mahalo!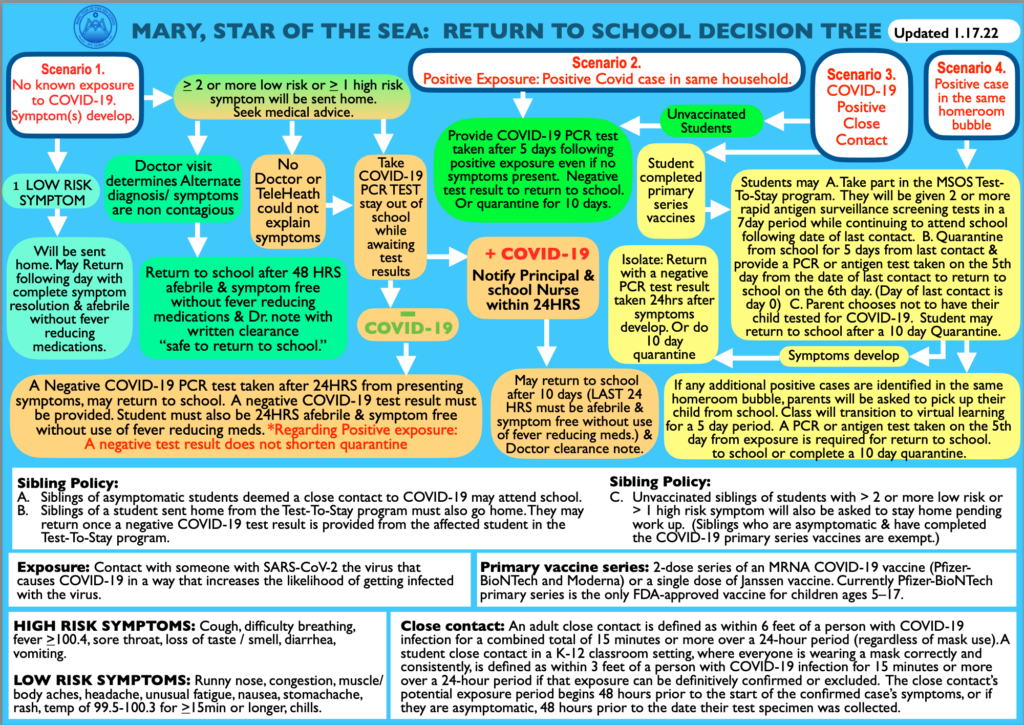 Return to School Decision Tree – Updated December 15, 2021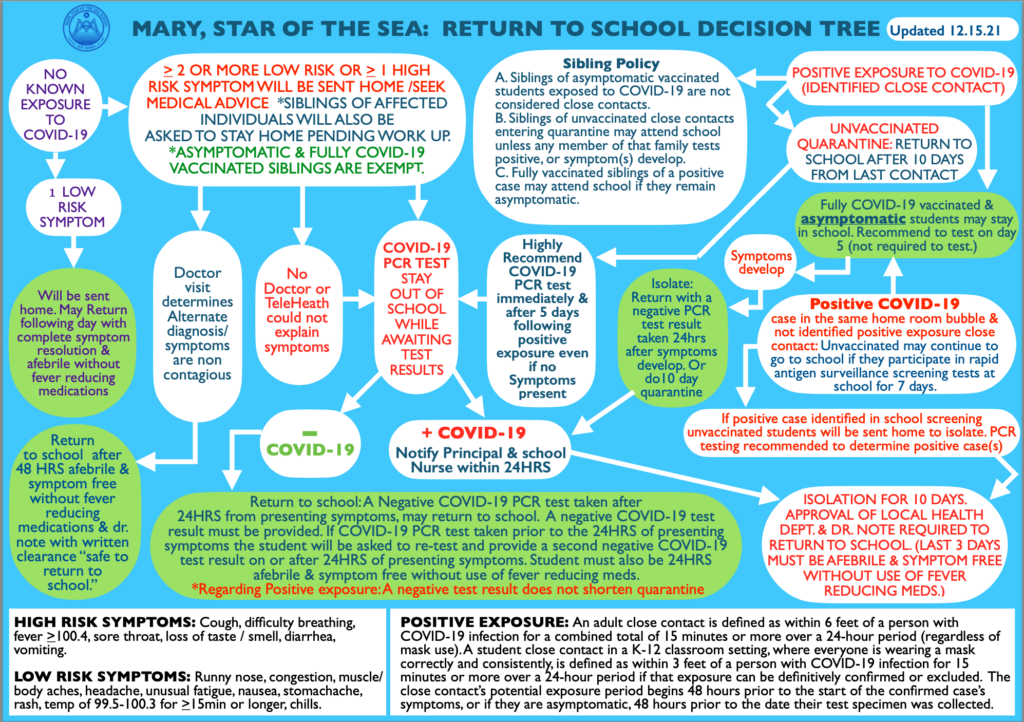 Updated on August 23, 2021
Aloha MSOS Families,
The recent surge of the Delta variant in Hawaiʻi and across the country calls for increased precaution and vigilance. As always, we will put the safety of our students and employees at the center of everything we do, following the latest guidelines for schools from the Hawaiʻi Department of Health and the Centers for Disease Control and Prevention. The back to school planning team has recently met to discuss the possible need to make any adjustments to our 2021-22 Back to School Plan. Our updated safety measures listed below and modified return to school decision tree continue to focus on preventing people infected with COVID-19 from being on campus and then mitigating the impact of possible transmission on campus, with a focus on indoor spaces.
——————————
Daily Health Screen
We will continue to require students, faculty and staff to report any symptoms each morning through our Daily Health Check-in Screening. We have received a 90% participation rate to date. If you have not logged into our new Student Information System, BEEHIVELY, please do so this week and please be sure you do not have any difficulties submitting the health screen. Starting September 1, 2021, students will be sent home if a health screen check in is not submitted.
——————————
Well-fitted Masks: Please be sure to send your child to school with well-fitted masks that snug the nose and wrap closely to the face and alongside the chin. We will be inspecting masks over the next few weeks and sending home recommendations as needed.
——————————
Face Shields/Goggles and desk shields: Although face shields or goggles are not required, students are welcome and encouraged to wear either or both. Face shields and goggles can not replace masks. Desk shields will be used during lunch time in Middle School classrooms.
——————————
Flu Shot Clinic : We are in the process of coordinating a school FLU Shot Clinic for our students this Fall. We also hope to host a COVID Shot clinic for our students when it becomes approved. In the meantime, if you are not already vaccinated, please consider doing so. Our Pope considers getting the covid vaccine, an act of love. It is part of our moral responsibility to help not only ourselves, but our most vulnerable (our students). CLICK HERE TO LISTEN TO OUR POPE'S MESSAGE
——————————
Stay Home if Sick:
While vaccines are still our best defense (i.e., vaccines reduce the risk of severe disease, hospitalization, and death), we also know that these vaccines have a reduced efficacy against the COVID-19 Delta variant. We cannot exercise any oversight of your child's activities outside of school, but we ask that you strongly consider your unique and heightened personal responsibility, as MSOS community members. Please refrain from sending your child to school if they are sick or show any signs or symptoms of illness.
It is recommended that if you or a family member present with any new upper respiratory
symptoms (i.e., runny nose, sore throat, nasal congestion, cough, etc.), do not assume that
symptoms are due to an existing allergy or another virus. During this severe surge period, if
you have had any unmasked exposures you should assume it is COVID, until proven otherwise. Please get tested promptly!
——————————
Return to School Decision Tree:
We have made a few adjustments to our decision tree. Please see below. All updates are highlighted in yellow.

——————————
Travel Protocol:
All students should meet the State travel requirements at the time of their planned within state and out-of-state travel.
All students must complete the Travel Request Form three weeks before scheduled out-of-state travel.
MSOS Travel policy provides three options for students returning from out-of-state travel:

quarantine at home for 10 days after returning or;
quarantine at home for 5 days after returning from travel and then obtain a nucleic acid amplification (NAA) COVID-19 test or;
Fully vaccinated prior to the start of out-of-state travel (vaccination cards are to be forwarded to the school nurse prior to travel) may return to school following a negative covid test upon immediate arrival but must also present a follow-up negative covid test on day 5.
Unvaccinated Students who plan to do a Day 5 test must stay home while waiting for the result of the test. Families should submit the student's negative test result to our school nurse and may return to campus only after they receive an email clearing the student.
——————————
As always, we will continue to be as transparent as possible, reporting on the health status of our school and sharing data to keep you informed. We will follow the most up-to-date guidelines from the CDC and the Department of Health. We will also adjust our operations where necessary and ask for your continued cooperation. Thank you for your support in following these guidelines, and we look forward to a healthy and successful school year ahead.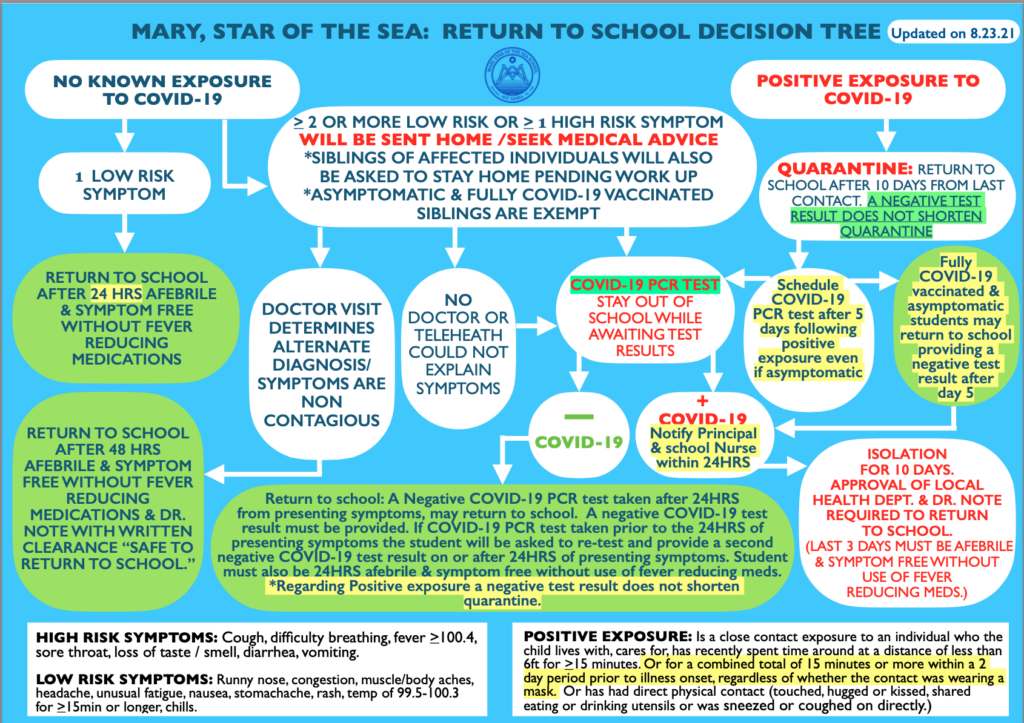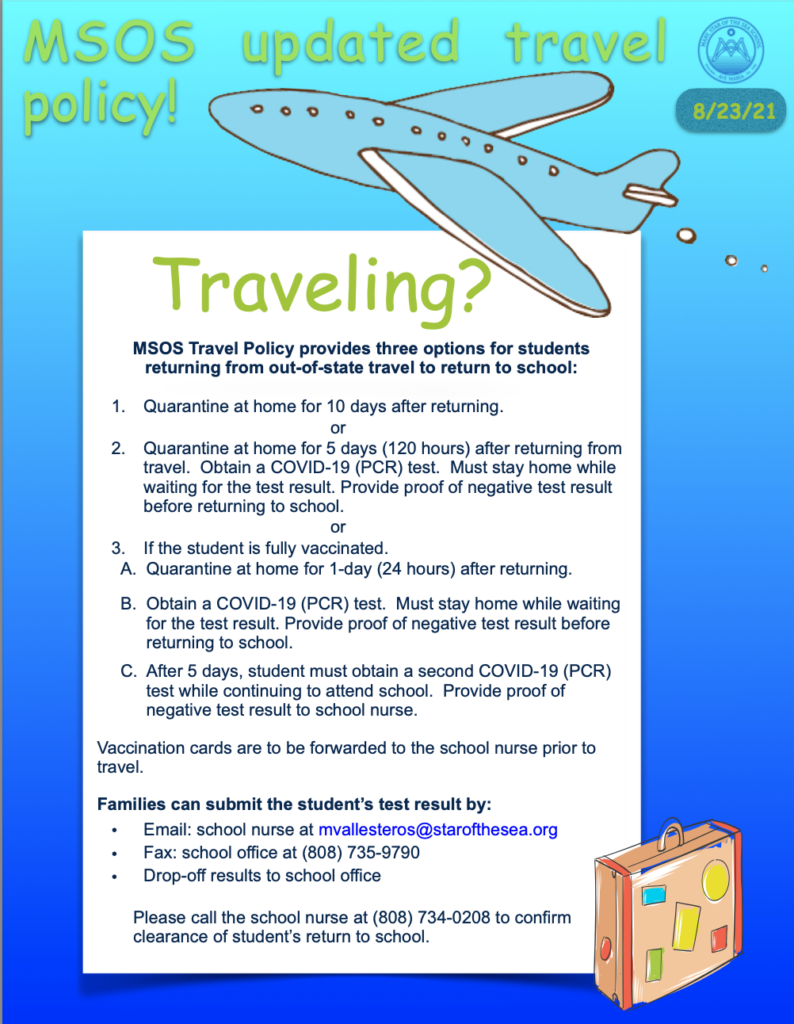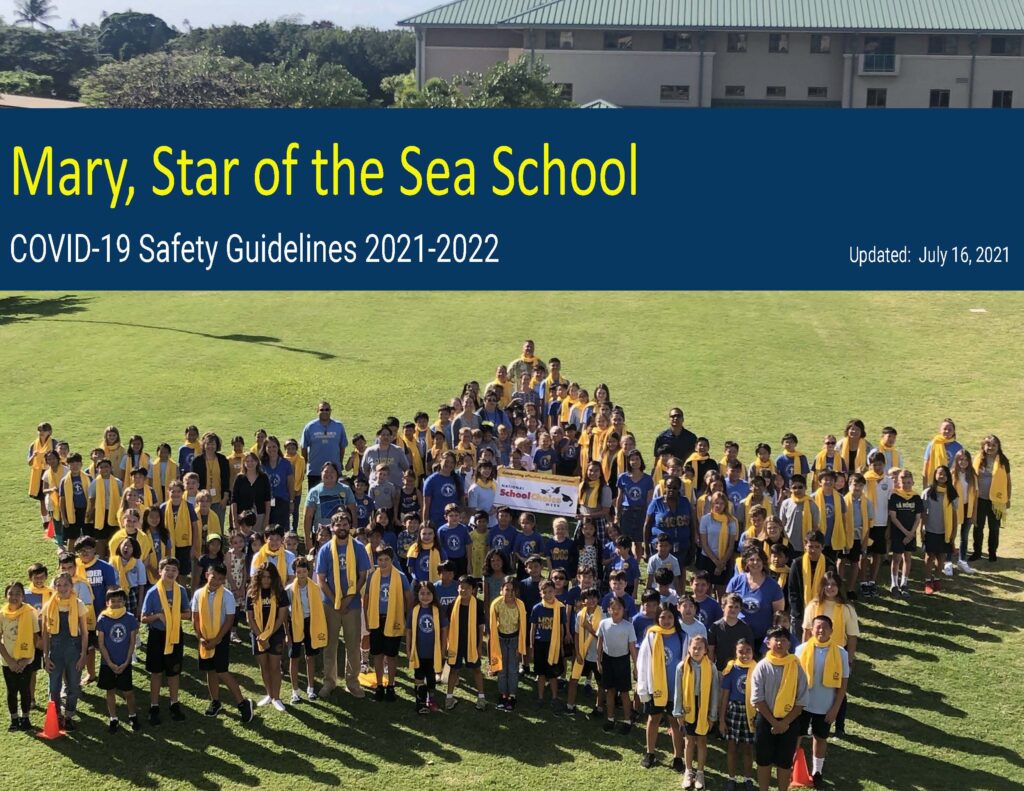 Alert Level as of May 21, 2021 – Remains YELLOW
Return to School Decision Tree has been updated in accordance with CDC Guidelines. Updates are highlighted in Yellow.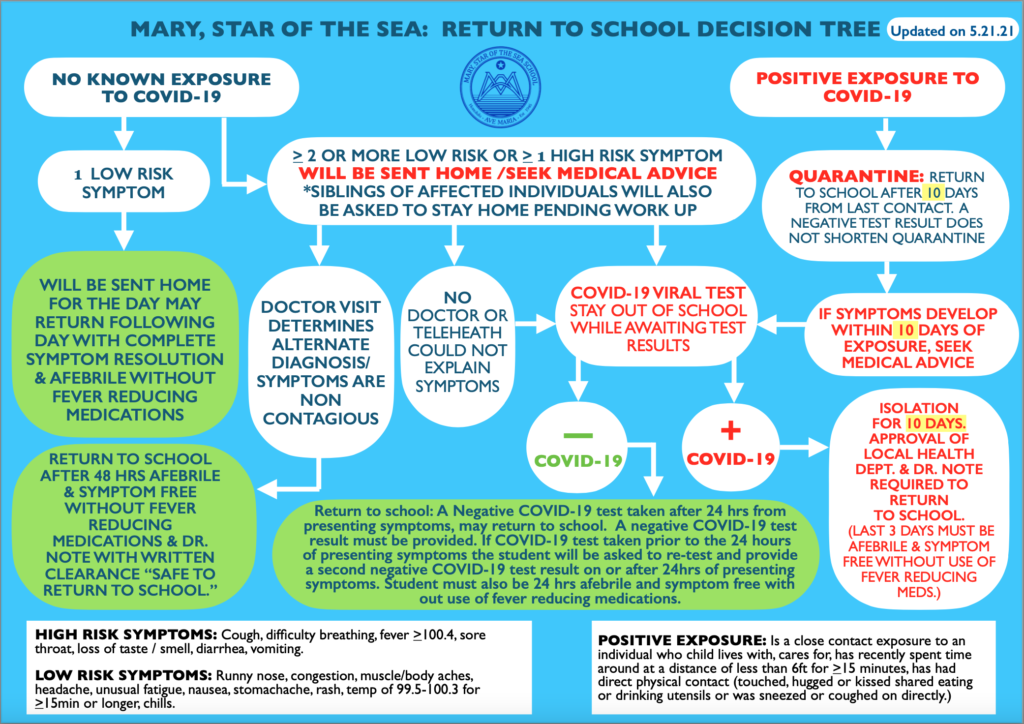 Alert Level as of April 23, 2021
Remains YELLOW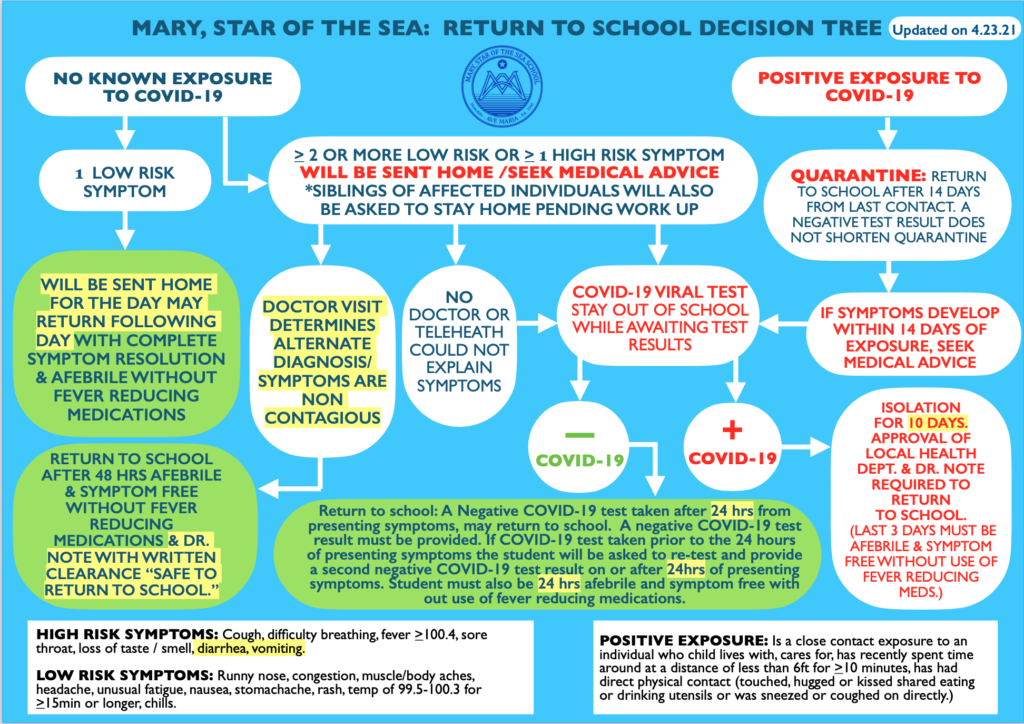 Alert Level as of February 9, 2021
Remains YELLOW
Aloha MSOS Community,
Although MSOS continues to advise families against unnecessary out-of-state travel we do understand that travel may be needed for unique family situations.
Following MSOS Back to School Planning Team consultation, it has been agreed that the following updates to our travel protocols be made:
1. MSOS will continue to follow the States' quarantine and testing protocol for inter-island travel.

2. In addition to the state-mandated travel protocols for persons flying into Hawaii, an MSOS student returning from out-of-state travel will have the option to either
a). return to school following a 10-day quarantine
-or-
b) return to school when a qualifying COVID-19 test is taken on day 5 (or later) of arrival to Hawaii and a negative test result is provided to the school.

It is with certainty that the diligent efforts by our entire MSOS community have contributed to keeping our campus COVID-FREE with minimal primary or secondary exposures. Let's continue to pray for strong community adherence to the State's mandates so that infection rates continue to decline.
We sincerely appreciate everyone's efforts, cooperation, and understanding.
---
Alert Level as of November 18, 2020
REMAINS AT YELLOW
MSOS 2020 HOLIDAY TRAVEL POLICY AND PROCEDURES
Aloha MSOS Ohana!
During the upcoming holiday season, although MSOS strongly advises families against unnecessary out-of-state travel, we do understand and support the need for travel for unique family circumstances. With that said, we would like to remind you of our school travel policy, which requires a 14-day quarantine post-out-of-state travel. The school will continue to follow the State's quarantine protocol for inter-island travel.
MSOS is very fortunate to have a planning team who has provided us with clear guidance and support. We are confident that the school's strict policies have contributed to being one of the very few island schools that have been able to offer uninterrupted in-person learning since the first day of school.

Some of you may be wondering why the school travel policy is more strict than what is required by the State?
The State travel policy is influenced by what would make tourists more likely to travel to the State for vacations and does not specifically address the potential for returning residents who are infected to go undetected by a test taken up to 72 hours prior to their return. MSOS's requirements are aimed to minimize the likelihood that a long incubation period may have missed an infected person returning to campus. We believe this policy provides the additional layer of safety needed to continue to keep our campus safe.
Many facilities (including various health care and military commands) are requiring a 2-week quarantine.
The winter months will also bring on more respiratory illnesses and non-essential travel could increase the risk to the school community. The 14-day quarantine is the only sure way to keep travel-based infections out of the school. That's because any transpacific flight is at least 5 to 6 hours in duration and often goes through major airports.
If you are planning to travel throughout the holidays we ask that you complete and submit this MSOS HOLIDAY TRAVEL FORM as soon as travel has been planned.
Families that may have visitors from out of state staying with them during or after the holidays, including older children returning from mainland colleges, should follow the state policy for out-of-state pre-travel testing or 14-day quarantine requirements. When visitors are quarantining in your home, it is important to keep them separated from other members of the household. Any person who has traveled out of state should monitor themselves for symptoms for 14 days after arrival.
---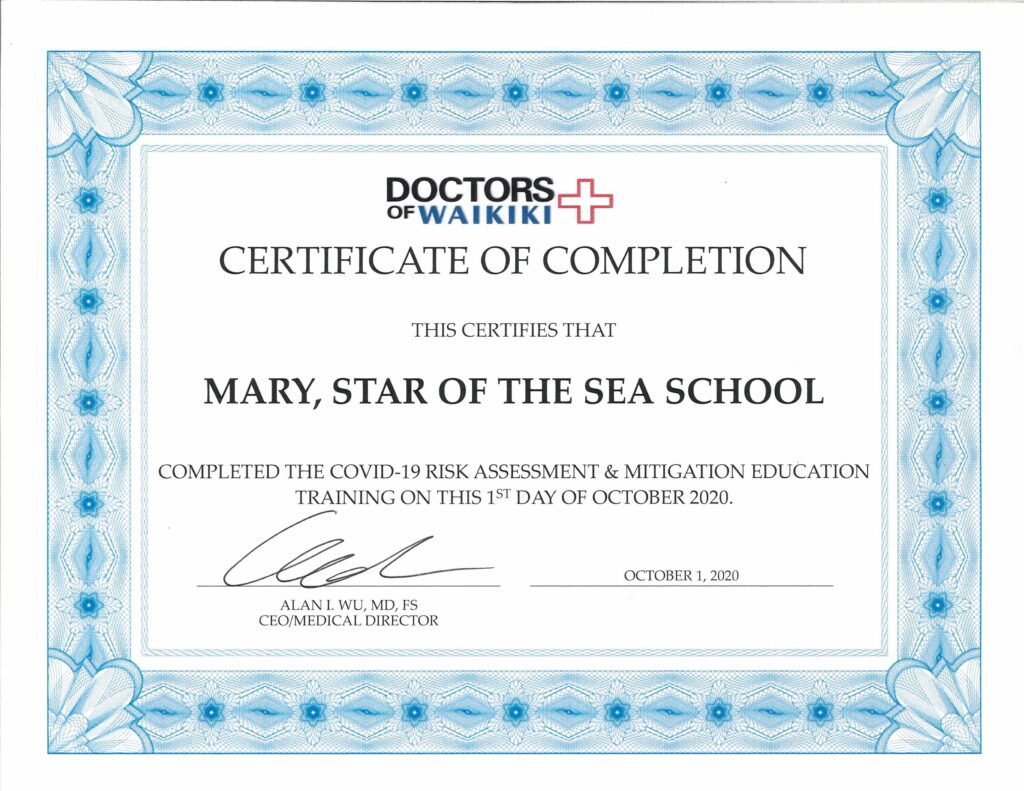 Alert Level as of Sunday, SEPTEMBER 27, 2020 is YELLOW
The MSOS back to school planning team met to discuss important safety-related updates.
1. School Alert Level: We are shifting our alert level from orange to yellow. So what does this mean?
A) MSOS does not have any positive exposures or COVID positive cases.
B) The infection rate on O'ahu is declining and adherence to gov't restrictions is improving.
C) Hospital resources are currently untaxed
We will continue to offer both in-person or virtual (to our high-risk students or families) in the second quarter
2. Quarantine policy post Fall break traveling.
Out of state travel:
1. Please notify the school office (808)734-0208 if your child will be traveling out of state during the Fall break.
2. Any student who leaves the state during Fall break will be asked to quarantine for 2 weeks upon his or her return. (regardless of the State's protocols)
3. Unless special permission is granted, due to a unique circumstance, students will not be placed in the virtual learning platform during a travel-related quarantine.

Inter-island travel:
1. The school will follow the State's quarantine protocol for inter-island travel.
Second Quarter – After school enrichment
Our after school enrichment programs will remain on hold. We hope to resume our programs in January. Kama'aina kids will continue to offer afterschool childcare throughout the second quarter.
---
Alert Level as of Sunday, August 31, 2020 remains ORANGE
---
MSOS Return to School Plan- Updated on Monday, August 31, 2020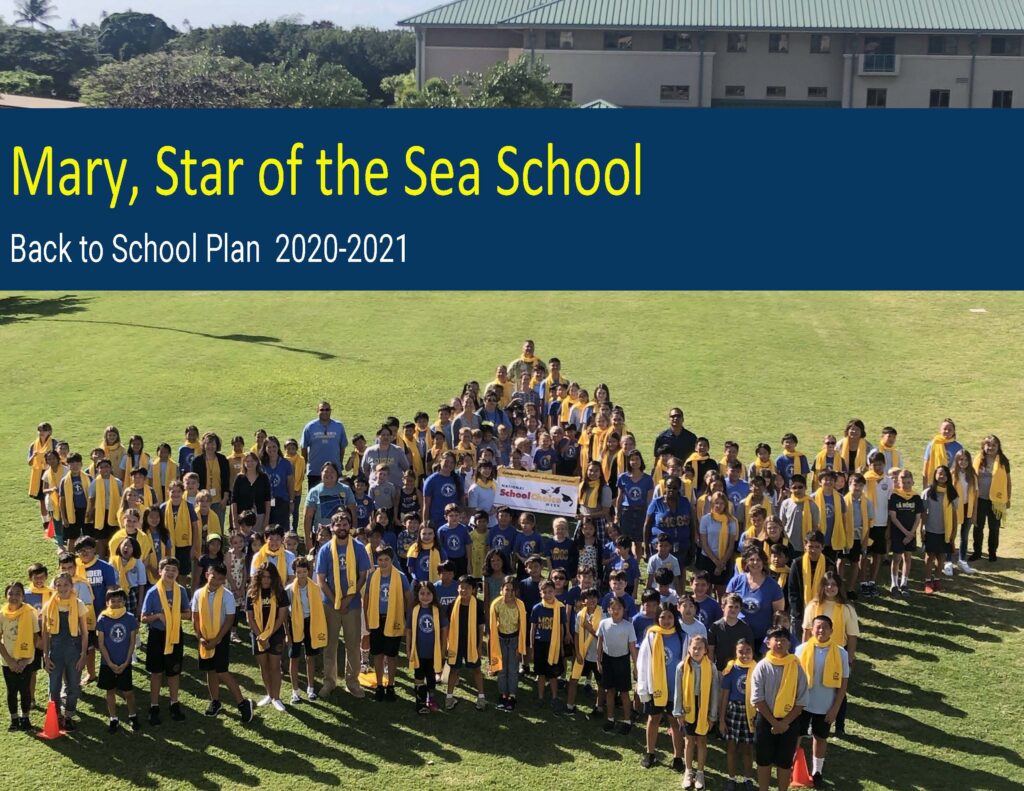 ---
Alert Level as of Sunday, August 9, 2020 is ORANGE
---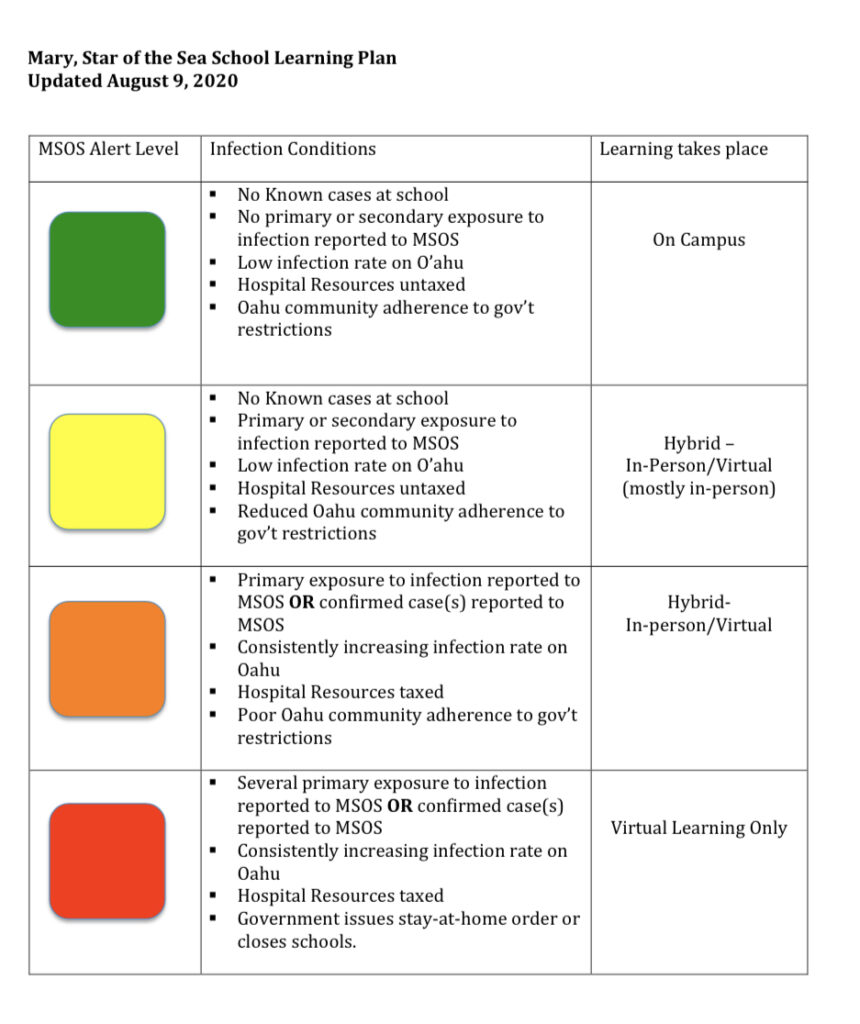 ---
Alert Level as of Thursday, July 24, 2020 is YELLOW
---
Mary, Star of the Sea School will resume full day (7:45 am-2:45 pm) in-person instruction (Monday-Friday) starting on Monday, August 3, 2020

.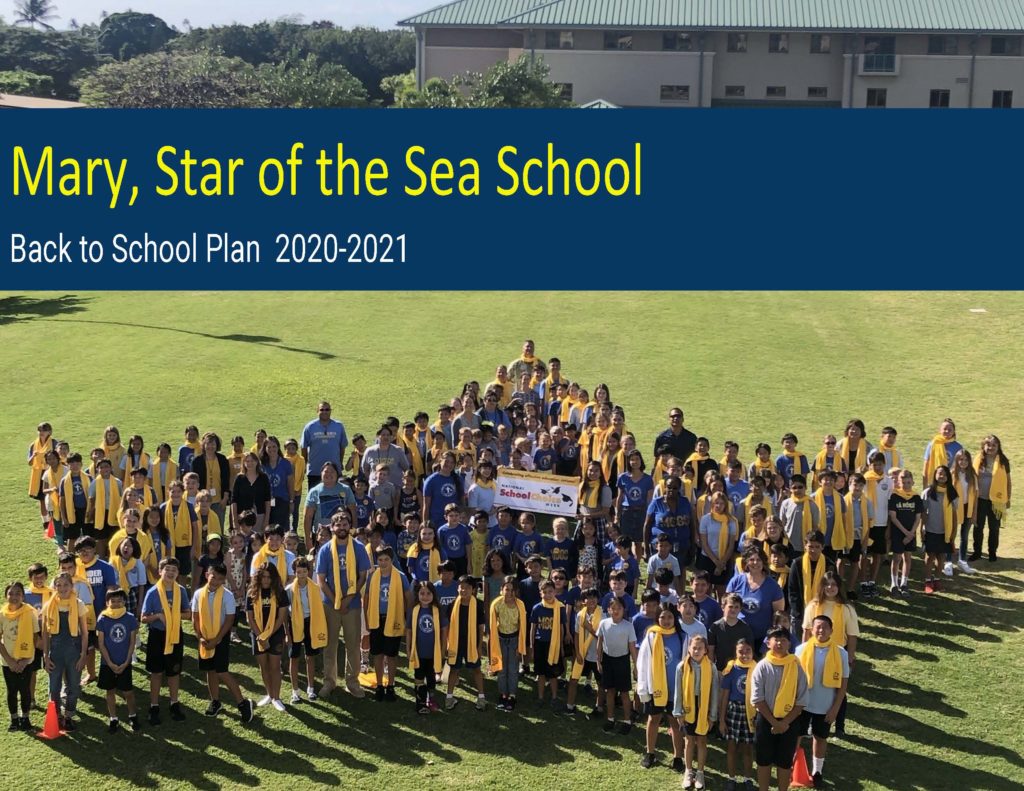 ---
August 1st, 2020
---
May 26, 2020
FREE SUMMER ENRICHMENT FOR OUR ENROLLED STUDENTS – REGISTER TODAY!

Mary, Star of the Sea School is very pleased to offer a FREE summer enrichment program to our students who are enrolled in the 2020-21 school year. We do expect a large interest in the classes so we kindly ask that you register by no later than next week, Friday, May 29,2020.
Our 4 1/2 week on-line summer enrichment program will take place from June 11 – July 10, 2020.
We are so proud of our students for adjusting so successfully to a distance learning platform. We also recognize, however, that some students had exceptional challenges for one reason or another. For this reason, we are pleased to also offer 1:1 tutoring sessions (in-person) to students who have had difficulty these past few months. These classes will be offered based on teacher recommendations only and will abide by state-mandated social distancing protocols. Parent notifications for 1:1 tutoring will be sent out by June 1, 2020.
More information about the summer enrichment program may be found in the "click here to register" form below.
Please be sure to complete a registration form for each child you wish to register and do not hesitate to contact either me or Mrs. Muneno [email protected] if you have any questions.
CLICK HERE TO REGISTER
---
May 26, 2020
End of the Year Prayer Service and Awards Ceremony~Thursday, May 28, 2020
Dear Parent and Guardians,
Our students and families always look forward to the end of the school year prayer ceremony at which time students are recognized for various high achievements including the citizenship award, first and second honors, athletic awards, and the Principal's Award. Students will receive their certificates and trophies on their scheduled pick up/drop off day.
Please join us for Mary, Star of the Sea School End of the Year Prayer Service and Awards Ceremony~Thursday, May 28, 2020@ 9 am
~We are excited to have you join us.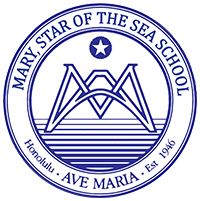 You may access the live stream link here.
---
May 14, 2020
Aloha Parents and Guardians,
I hope this email finds you and your families well. Our MSOS distance learning program throughout our kindergarten to grade 8 classes is going exceptionally well. I am so impressed with our dedicated and talented faculty and our students who are persevering through such an unusual circumstance with such positivity and commitment. With this said, however, we all REALLY MISS the irreplaceable social connections that our school community offers!
We are uncertain as to what public health conditions will emerge in the coming months, however, our school's current goal is to begin in-person instruction for the upcoming 2020/21 school year, per our scheduled calendar date, which is Monday, August 3, 2020.
Due to the evolving nature of the COVID-19 pandemic, we will undoubtedly need to make some adjustments to our normal school policies and schedules. The measures that we put in place will be designed to maximize the safe, in-person learning environment for all students, and take additional measures to prevent vulnerable members of the community (and in their households) from becoming infected.
Please carefully review the following important school updates:
Enrollment Packet. By now, you should have received an enrollment packet in the mail. This packet includes your child's school contract along with many other important documents that will require your attention to. Under the circumstances, the deadline to return the forms has been extended to June 03, 2020.
Financial Aid/Scholarship We would like to open our Mary, Star of the Sea Scholarship to additional families who may be experiencing financial strain due to COVID-19. Please click on this link Mary, Star of the Sea School Scholarship to apply.
FREE DISTANCE LEARNING (DL) Summer Enrichment for all incoming students at MSOS We are excited to announce that we would like to offer a FREE DL summer enrichment program for students entering 1st to 8th grade. A registration link with detailed information about the program will be emailed to all our incoming families on Monday, May 17, 2020.
In the meantime, I would like to extend my sincerest blessings for a successful wrapping up of your child's current school year, and I look forward to having your family join our MSOS Ohana! Please do not hesitate to reach out to me should you have any questions or concerns.
Mahalo!
Margaret Rufo
---
---
April 22, 2020
Aloha MSOS Ohana and Happy Earth Day!
I hope this email finds you and your family safe and healthy.
I am sure that this will come as no surprise, but all parochial schools in the State of Hawaii, will extend the postponement of "in person" classes through the end of the 2019-2020 School Year. We will continue to provide quality distance learning to our students through the end of their individual 2019-2020 school calendars. Our final day of DL school will be Friday, May 29th.
It saddens me that we will not be able to wrap up our school year in person; however, this decision, of course, was based on our primary concern for the safety of our students, their families, and our employees and was required by the policy set forth by city and state officials. I understand how disappointing this is for everyone, especially our 8th graders who always look forward to MSOS's traditional graduation celebrations.
Wrapping Up the School Year Plans
We are currently discussing the best and safest plans for a number of end of year events:
Pick up of personal belongings, including school yearbooks, and the return of borrowed school property (library books, class materials, band instruments, ipads, and chromebooks) is scheduled to take place throughout the week of Monday, June 1 to Friday, June 5.
Grade 8 graduation – formality and date TBD
Sports and End of the Year Awards celebration – plans are currently being discussed to recognize student achievements.
Fourth-quarter cafeteria and school enrichment payments will be returned to you by mail. Cash payments will be held at the office and a pickup arrangement will be made with these families.
Silent Auction Donations – All donations will be secured until a final date is set.
I understand that some families may be leaving the island before Monday, June 1. If this is the case for your family, please notify the office by calling 808-734-0208 or email us [email protected]. We will be happy to arrange an alternate pick up day for you.
Summer School
As you know, state policies are changing by the day. For now, our in-person Stepping Up to First-grade summer program is currently on hold. A definitive decision regarding how/if this program will take place will be made as we near the end of May.
In the meantime, we are currently looking into offering FREE distance learning summer enrichment opportunities for our returning MSOS K-8 students. More information to come at the beginning of May.
Thank you again for your patience and understanding throughout this period and as always, please do not hesitate to reach out should you have any questions or concerns.
Mahalo,
Margaret Rufo
March 17, 2020
Dear Parents and Guardians,

As you all know, news and updates regarding COVID-19 are changing by the minute. Mary, Star of the Sea's continued goal is to ensure the safety of our community and to maintain as normal of a learning environment as possible.

Mary, Star of the Sea School has made the decision to extend its Spring Break for two additional days and begin a distance learning program for all students on Wednesday, April 1, 2020. What will a distance learning program look like? First, the campus will be closed to students until further notice. Second, all instruction will be given through digital platforms.

Teachers will be asked to report to work on March 30-31 for distance learning planning. Please expect to receive an email from your child's homeroom teacher by Tuesday, March 31, 2020. It is too early to determine when regular classes will resume. If you do need to come to school to pick up materials, please first make arrangements by emailing the office at [email protected].

In accordance with CDC's recommendations for social distancing over the next 8 weeks, we have had to make a difficult decision to cancel our annual Food Festival and May Day Performances.
Enclosed you will find your child's third-quarter report card. Please be assured that we are here to help your child to continue to grow in spirit, body, and mind. Should you have any questions regarding your child's progress, please do not hesitate to contact your child's teacher.

No doubt, the next few months will continue to be a challenging time; however, may our faith in the Lord fill our hearts and minds with compassion, perseverance, and hope.

Sincerely,
Margaret Rufo
Principal
"Have I not commanded you? Be strong and courageous. Do not be afraid; do not be discouraged, for the Lord your God will be with you wherever you go." Joshua 1:9