May 15, 2022
As case counts statewide have risen we have been closely monitoring exposure incidents throughout campus . Although we have had some exposure to the covid virus, the good news is that despite our updated mask-option protocol, in-class transmission does not appear to be a problem at this time.
Per DOH guidelines, quarantine is not required for in-school exposures when in-door masking is implemented. Therefore, in order to avoid quarantine, on-campus masking will continue to be optional with the following exceptions:
1. Masking will be required during large group indoor gatherings, including church.
2. Where there may be one or more exposures in a classroom, masking will be required for a 10 day period.
3. If a student has a member of their household who tests positive for COVID but is otherwise healthy themselves, they may come to campus if they participate in the test-to-stay program and wear a mask BOTH indoors and outdoors for a period of 5 days.
4.   For those who exhibit a low-risk COVID-19-like symptom but have tested negative, must wear a mask until symptoms have subsided. 
For students and staff who have tested positive for COVID-19 regardless of vaccination status must wear a mask indoors for a 10 day period from when the student tested positive.
Lastly, as an important reminder, please keep your child home if they are unwell. This is the most important measure our School has to promote a healthy campus community, and it requires everyone to do their part.
---
Mask Protocol Update beginning May 2, 2022
April 29, 2022
A great deal of consideration has been put into our school mask protocol. It has been determined that the negative impact that masks are currently having on our MSOS students' self-esteem, social skills, literacy development, skin conditions, and confidence, are far outweighing current masking benefits at school. Also, since Spring Break we have had nominal covid-related reports.
Effective Monday, May 2, 2022, masks will be optional both outdoors and indoors on Mary, Star of the Sea School campus. Please note that there is one exception. We do ask that our students have a small supply of masks available in their backpacks for future larger and closer school indoor gatherings. For example, masks will be required when we attend church on Fridays. Our goal is to focus on teaching our students how to adjust using one's common sense and not fear. We also do understand that everyone's situation is a unique one; parental requests will be respected and at no time will students be pressured one way or the other.
Our school nurse, Ms. Maile, and I will be monitoring the wellness of our students closely throughout the month. Please also be reminded to keep your children home if they are showing any high-risk or multiple low-risk flu-like symptoms. Let's continue to work together to ensure we wrap up this school year, healthy and strong!
---
Return to School Protocols – Updated: March 2022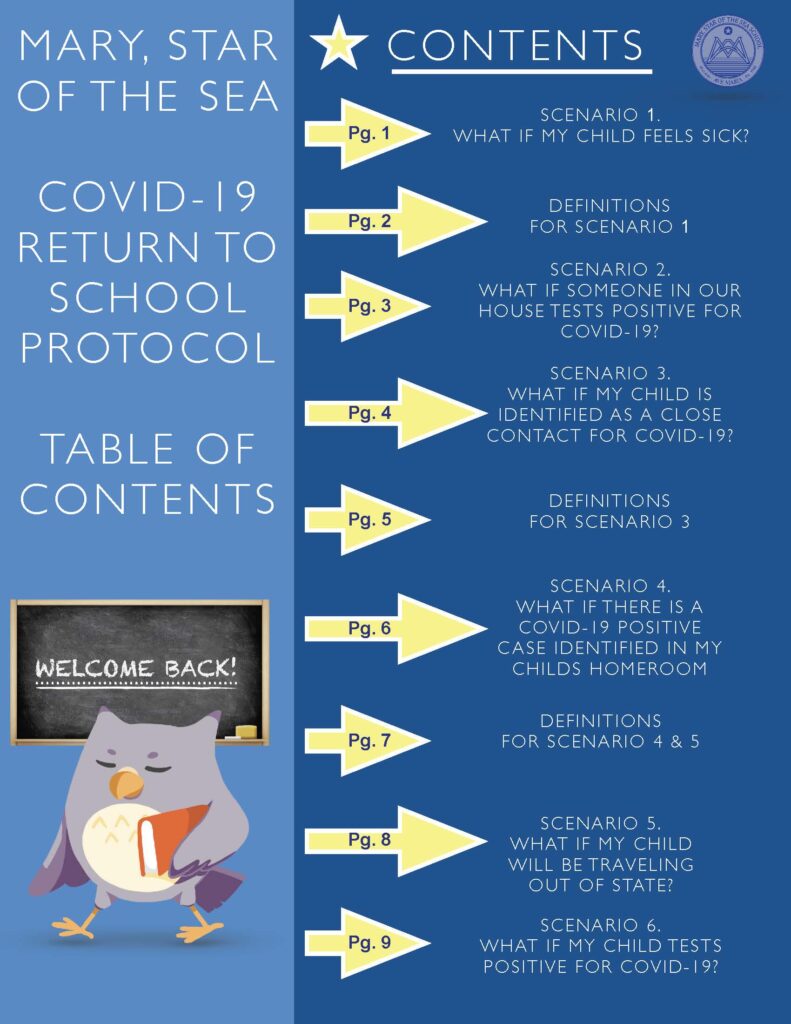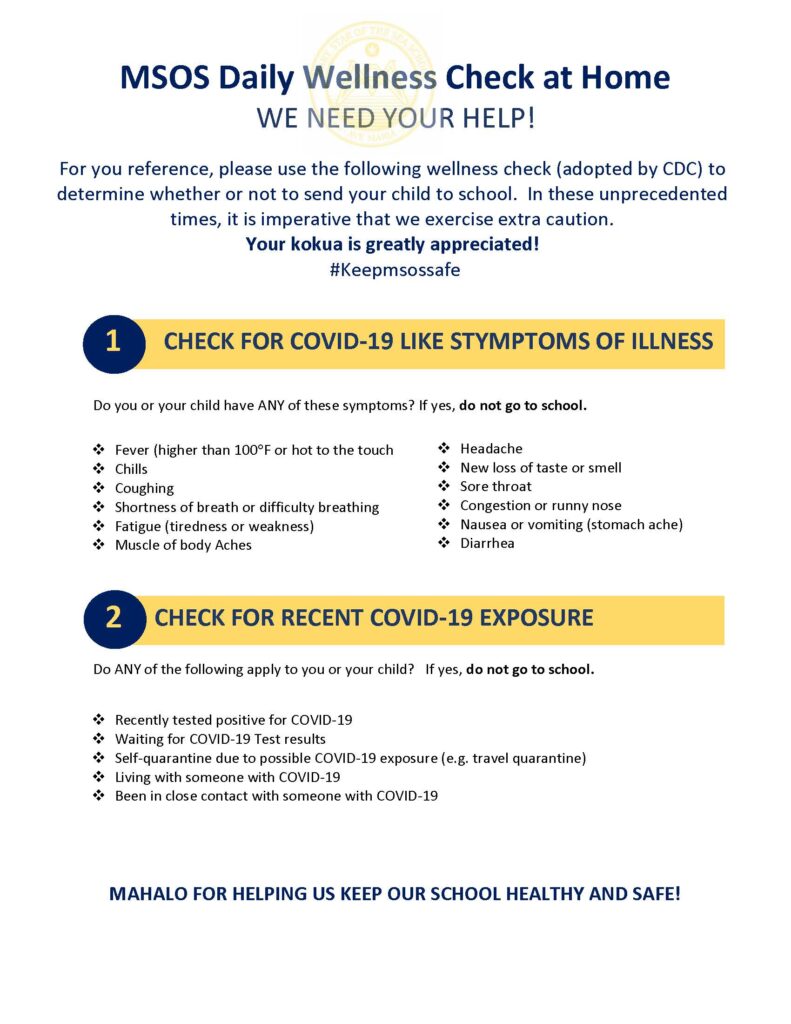 Mary, Star of the Sea Return to School Decision Tree – Updated November 5, 2020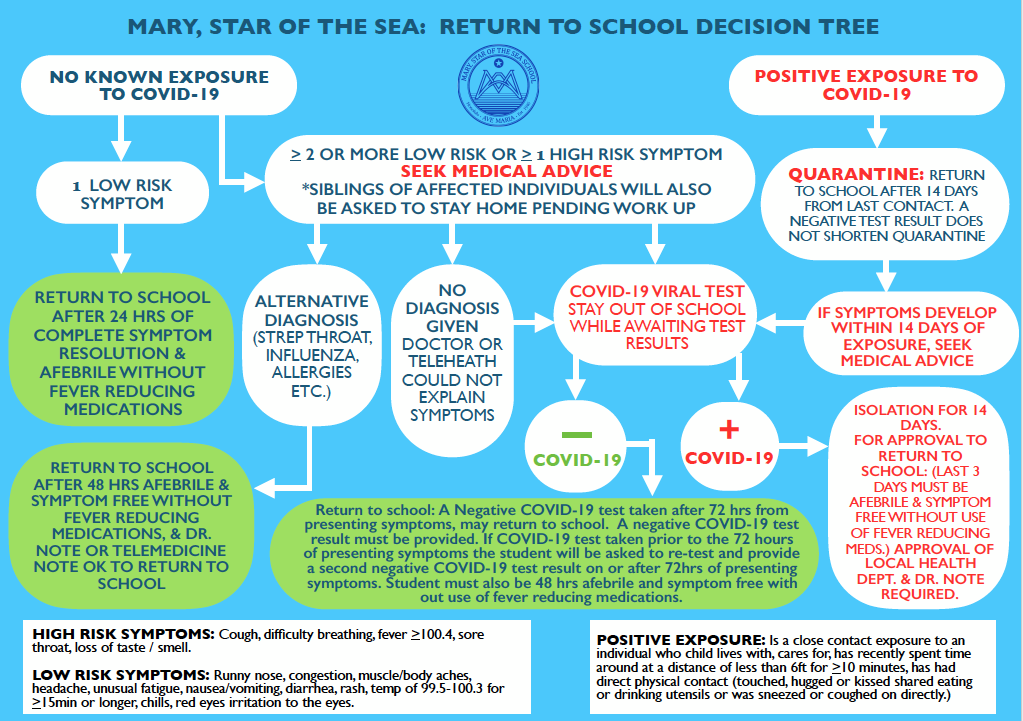 Family Resources – COVID19
Updated: August 31, 2020
We are dedicated to doing our very best in the effort of keeping our school as safe as possible during the COVID-19 Pandemic. In our commitment to keeping all of our Keiki healthy we have created Mary, Star of the Sea Return to School Decision Tree. We continue to ask that if your child is not feeling well to have them stay home, for their own comfort as well as for the overall safety of the MSOS students and faculty. However in the event that your child should become ill during the school day and are sent to the health room Mary, Star of the Sea will follow the protocol outlined in the attachment MSOS Return to School Decision Tree.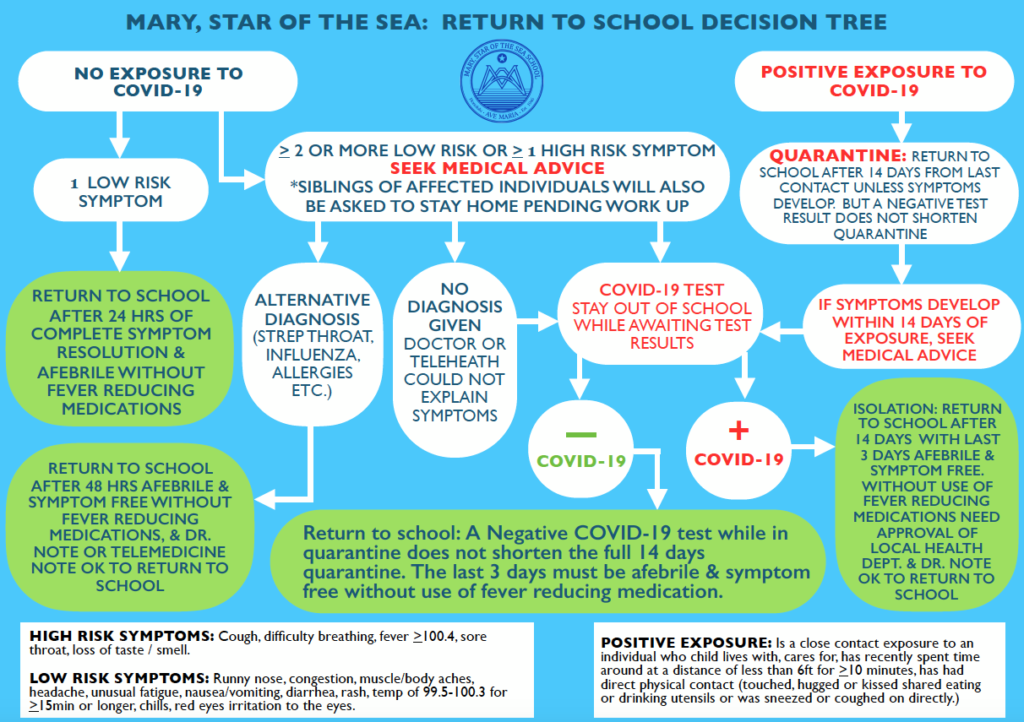 Additionally in keeping your child's health a top priority, don't forget your flu shot! The CDC recommends getting a flu shot early in the season.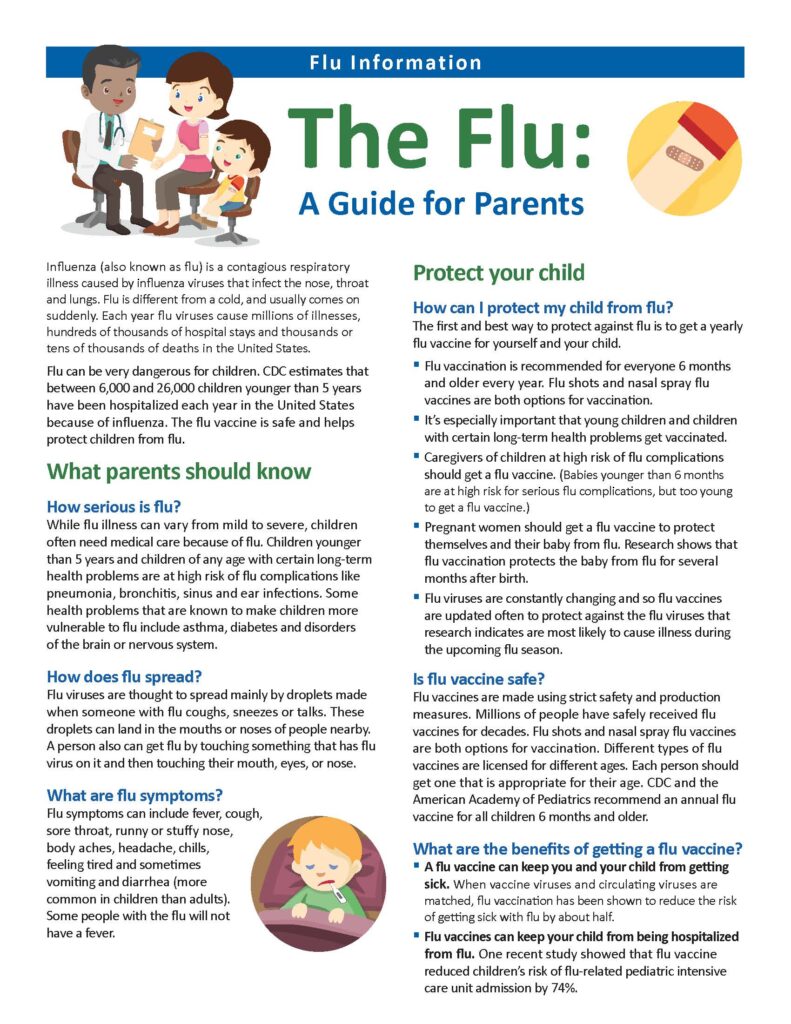 According to the CDC, getting the flu shot each year is the best way to help protect you and your family against the flu. Receiving a flu vaccine has been shown to reduce the risk of flu-related doctor visits and hospitalizations. Contact your child's pediatrician if you have specific questions and/ or want to schedule your child's flu shot. Also for your convenience many local pharmacies are currently offering the flu shot such as many Longs/CVS & Walgreen locations. (cost is covered by most health insurances) Please see attached. (CDC Flu guide for parents)
Check Your Child's Mask!
Please note that if your child's mask has holes, vents or valves they must not use that mask when attending School. All masks worn by MSOS faculty students and parent volunteers must be a tightly woven face covering that covers both mouth and nose with NO vents, valves, or holes when on MSOS Campus.
Calling All Parent Volunteers!
We are so thankful and blessed for all of our MSOS volunteers, and there are still MSOS Parent/Guardian Volunteer opportunities for after school cleaning! If you are interested in volunteering to clean your child's class after school please email the health office at [email protected] at your earliest convenience. We ask that all Cleaning Volunteers arrive promptly at the close of the school day and appreciate all your continued support!